Get Free VoucherSkout Credits with Citi Credit Cards
If you don't have an active VoucherSkout credit bundle, start saving by downloading the Voucherskout app, register or log into your account and add your Citi Credit Card to the wallet to automatically unlock your free credits.
Download and register on the VoucherSkout app
Go to the "Me" section of the app and select "My Wallet"
Add your Citibank Credit Card to the wallet*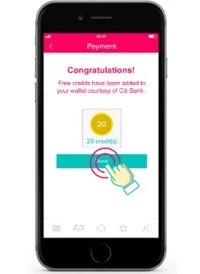 Your free VoucherSkout credits will be added to the account
Start redeeming vouchers and enjoy more with 50% off deals
*Important: Do not top up or buy bundles when adding your card, as this will result in unnecessary charges.
Our credits will be valid for 12 months from activation date.
Do not top up or buy bundles when adding your card, customers should only add their card to the wallet to activate the applicable credit bundle.
Customers are entitled to only one free credit bundle per Citi Credit Card within a 12 month period as follows:


150 Credits: Emirates-Citibank Ultima & Ultimate, Citi Prestige, Citi PremierMiles Elite cardholders
50 Credits: all other cardholders

At the end of the 12 month credit bundle validity, customers will need to remove and re- add their Citi Credit Card to activate the next 12 month bundle.
Customers with active Promo Code bundles will not be eligible for new credit bundles until after the 12 months validity has ended.
Read the complete Terms and Conditions here.
Merchant partners are subject to change
Missing the minimum payment due in any month and/or non-adherence to the bank's Terms and Conditions may subject you to negative consequences and limit your ability to access further financing in the future, including but not limited to, late fee charges, a negative impact on your credit bureau rating, your card account going into arrears and/or collections measures which may include legal action and/or trigger all monies becoming due immediately. If you only make the minimum payment each month, you will pay more in interest and it will take you longer to pay off your outstanding balance.
Disclaimer
Citibank Terms and Conditions apply, are subject to change and are available upon request. For the current Terms and Conditions, please visit our website www.citibank.ae/tnc. All offers are made available on a best-effort basis and at the sole discretion of Citibank, N.A – UAE Branch. And makes no warranties and assumes no liability or responsibility with respect to the products and services provided by partners/other entities.